Nikki Negrea: A Welcoming Home Has 'a Garden That Sings'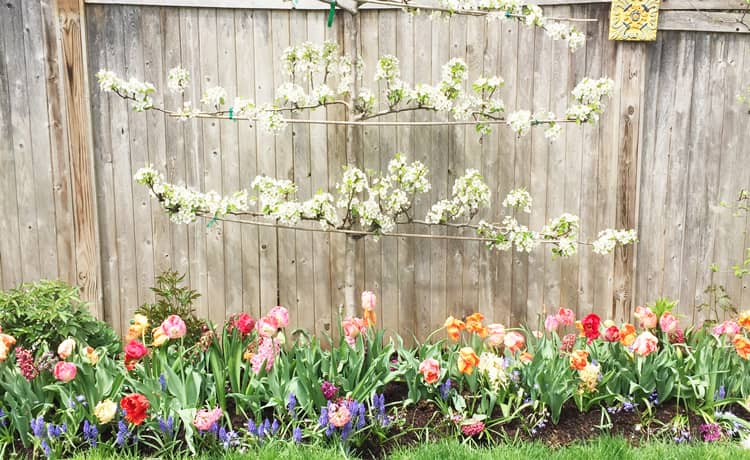 An espaliered apple tree underplanted with mixed parrot tulips, "Blue Jacket" hyacinth, muscari and glory of the snow.
April 27, 2017
By Michelle Moskowitz
Sentinel Correspondent
Have you ever driven ever so slowly by a Greenwich home to marvel at the richness and beauty of its landscape design?
There's a good chance the landscape artist behind it was Nikki Negrea, proprietor of Greenwich Garden Design, a high-end landscape boutique firm offering full-service design, installation and maintenance.
Since 2004, GGD has been serving Greenwich and surrounding communities as a single-source provider for all landscaping needs, including extensive masonry work for both residential and commercial properties.
On first meeting Negrea, one is instantly engaged by her bright, confident smile and capable demeanor as she discusses the business—and the art—of landscaping, and the impact it has on a homeowner, on the community, and on Mother Nature.
"A beautiful landscape design makes people feel warm and welcome," said Negrea. "It of course adds curb appeal, but most importantly, people get inspired when they see that softness (of nature)."
Her passion for gardening and landscaping, coupled with her immaculate attention to detail, has contributed to her ever-growing client base over the last decade.
GGD's projects range from simple foundation borders of a home or commercial building to multiple-acre master plans, requiring numerous phases of design, development and implementation.
According to Negrea, "symmetry, balance, scale and texture" are all critical components garden design.
One of the firm's largest clients is The Taft School in Watertown, Conn., where GGD has essentially designed and constructed all the landscaping on campus.
Headmaster Willy MacMullen has said, "GGD has had a dramatic effect on the experience of our campus."
It's easy to see how Negrea's multi-faceted past culminated in the success of GDD.
She has fond memories of working with her mother in their vegetable and perennial gardens as a child. And she drew inspiration from her family's travels around the world, spending ample time in the French and Italian countryside, as well as in Brazil, where she once lived. These travels helped form her "traditional, European aesthetic," she said.
Some of her favorite inspirations include Vaux le Vicompte, right outside of Paris, the gardens of Versailles, and Villa D'este, in central Italy.
"Everyone wants to see color and have the feeling of being uplifted," Negrea said with a smile.
While attending Wellesley College, Negrea spent a semester abroad at L'Universite d'Aix-en-Provence, where she studied landscape architecture, and art history, solidifying her European flair for the craft that would one day become her profession.
Spring and fall are her most active seasons; Negrea plans for them all year long. She seems utterly unphased as she discusses managing numerous projects simultaneously, each staffed with up to ten people at a given time, depending on the scope.
"I love all the elements of this business—the creativity as well as the complexities that come along with each project, such as managing sunlight and soil conditions," she said.
"I listen to my clients very carefully and to their needs, whatever they may be, whether it be a low-maintenance program or deer-resistant plantings," said Negrea.
"I personally pick every single plant and tree to ensure it's of the utmost quality," said Negrea.
Perhaps Negrea obtained her detail oriented nature and quality assurance tactics from her vast experience on Wall Street, where she worked for ten years prior to moving to Greenwich almost twenty years ago with her husband and growing family.
Negrea worked as a lending officer with The Bank of New York.
She also worked at Credit Lyonnais bank, where she conducted all business affairs in French—all while earning an MBA in finance from New York University.
After moving to Greenwich and becoming an active volunteer for several years (which she still is), Negrea felt that it was the right time to put her green thumb to work and share her love, talent and creativity for landscape beautification.
When asked how she fares as a woman business owner in a field that is dominated by men, Negrea offered a knowing smile.
"While there may only be a handful of us in this business, how many women (or men for that matter) have been through the Amazon jungle? I have."
She adds, "It's a wonderful career choice, contributing to one's community and making people happy and proud of their homes at the same time."
Negrea remains an avid volunteer by contributing to the enhancement of Greenwich in myriad ways.
Negrea works with "Greenwich Green and Clean," has donated over 20 trees to the town, and has been decorating the holiday stroll for Greenwichites to admire for the past ten years.
She has also contributed to the enhancement of landscape design at North Street School and Central Middle School, which her children attended.
Negrea proudly recalls one of her long-standing Riverside clients, whose landscape design had an "inspirational ripple effect" on many neighbors on the block, and shares her testimonial words of joy that say it all: "Our garden now sings."